What are Dental Implants?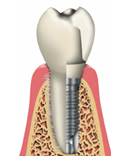 We can compare dental implants to a natural tooth's root. When we have natural teeth, they are anchored in the jaw bone. This bone remains stimulated thus producing bone cells. When teeth have been extracted, the lack of bone stimulation results in bone loss, facial atrophy and an aging appearance.
Dental implants act as a natural tooth root that stimulates the bone. It is extraordinary that titanium (the material dental implants are made of) is extremely biocompatible. So much so that the bone behaves similarly around a natural tooth root than around an artificial rooth (dental implant). In addition, being artificial cavities do not form on dental implants like they might on natural teeth. Therefore, we obtain functional teeth, able to receive superior chewing forces than a conventionnal prosthesis or a partial prosthesis. Also, healthy teeth do not need to be damaged in order to act as anchors as it is often done to place a fixed bridge or a partial prosthesis.
For example, in order to place a bridge, the dentist has to file teeth and remove healthy enamel parts.
Here is an obvious example of a person missing a tooth, a bridge was done in order to replace the missing tooth. The dentist sacrificed 2 healthy teeth in order to place the bridge. We believe this patient would have been a good candidate for a dental implant.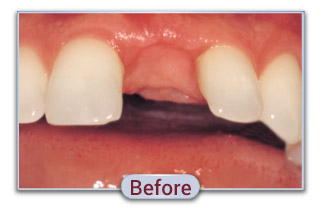 This patient has beautiful healthy teeth.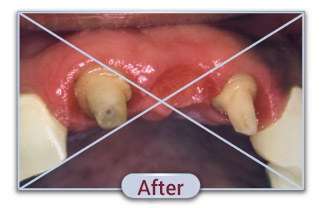 An option (advised against) consists of filing out healthy teeth to install a bridge.
Implant dentistry represents an excellent esthetic solution. No other teeth replacement option allow to mimic natural teeth as close. Whether it is for one or several missing teeth, whether the teeth are adjacent or not, whether it is for posterior or anterior missing teeth or for a complete loss of teeth, there is always a solution to fit everyone's needs.
How much do dental implants cost?
Many patients ask us how much do dental implants cost. At our implant dentistry clinic in Montreal, the price for a dental implant is 2191$.
However, if there are several missing teeth, the cost will vary according to the number of dental implants needed and the type of material that are used to replace the missing teeth. Bone grafts can also influence the price. A crown costs 2250$. You have to figure 4441$ for the implant and the crown.
Booking a free dental implant appointment allow the patient to know if the dental implants are the best solution for him/her and also to get a close approximation for one or multiple dental implants. Depending on your needs and objectives in terms of results, a fully detailed estimate will be given to you at your free consultation. In many cases, multiple options can be offer.
ABOUT CENTRE D'IMPLANTOLOGIE MONTRÉAL-ROSEMONT
Combining nearly 30 years of experience in implantology, The dental clinic Montreal-Rosemont offer you excellent services and care in dental implants and general dentistry. For informations about dental bridge, rooth canal, wisdom teeth extraction and more, register you to one of our free information session or you can make an appointment for a free consultation.